How to Buy Your First Welder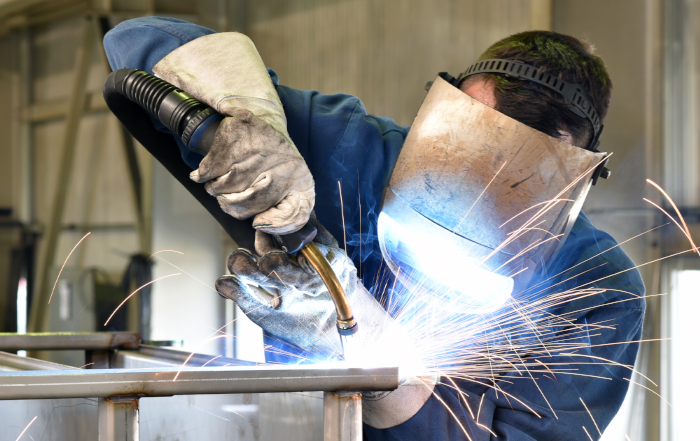 When it comes time to buy your first welder, you may feel that you're in over your head. How do you know which welding machine is right for you? We'll give you a list of questions to ask yourself before you purchase a welder. Your answer to each question will guide you towards the best choice.
Question 1: What is your welder application?
1. Your welder will be used to repair tools on your property. Many beginners will find a welding skill helpful in repairing tractor parts, trailers, or fencing. If you need a welder for these types of projects, you need a welder that is durable and easy to use.
2. Your welder will be used for a small business or hobby. Will you weld tubing together and create off-road bumpers or roll cages? Is the artist in you ready to design metal sculptures? Then you will need an easy-to-use welder that can create high-quality welds.
3. Your welder will be used for important, small, tight-tolerance, or aluminum items. Precision is key when you intend to work with small, intricate pieces. You'll need a welder that goes beyond that of a hobbyist, one that can tackle an advanced group of parts.
4. You're not sure how yet. You may be interested in learning the skill of welding, but unsure exactly what it's purpose will be.
Question 2: What is your budget?
1. Budget matters greatly. If budget is a major factor in deciding what kind of welder to purchase, expect to buy a welder that is economical, durable, and simple. It will get the job done without offering more advanced features.
2. Budget is important, but it is flexible. If you're willing to bend a little on your initial budget, you'll find a welder that is of good quality with a few more features to expand on capability.
3. Budget is not a concern. You probably fall into this category if you're already familiar with welding and are looking for a machine that you can grow into. You're ready to learn new skills and attempt more difficult projects.
4. What does a welder even cost? If you have very little knowledge on how much to expect to pay for a welder, or you're unsure what you can afford, this category is for you.
Question 3: What materials will you weld?
1. Your materials will include angle iron, steel fences, steel pipe, or moderately thick ferrous plates. If any of your materials are typically found outdoors, they might not be clean before welding. This is helpful to know before purchasing a welder.
2. Your materials will include sheet metal, steel tubes, or thin ferrous plates. This category is for you if your projects include welding tubes for a race car, welding sheet metal on a vehicle, or welding thin ferrous plates for an agricultural tool.
3. Your materials will include aluminum, sheet metal, or specialty steels. Select this category if you intend to work with stainless steel, aluminum materials, or Chromoly.
4. You're not sure what materials you'll work with. You most likely won't be welding any kind of aluminum, but you'll probably use a variety of metals.
Question 4: How important is the ease of use?
1. Very important. You want a welder that is simple to use to complete simple projects.
2. Somewhat important. The all-around utility is most important. You want a welder that combines ease-of-use with the ability to accomplish more complex welds.
3. Not very important. You aim to advance your welding skills in weld penetration, cosmetics, and weld quality.
4. Undecided. Maybe you aren't quite sure what welding projects you'd like to tackle which inhibits your decision on buying a welder that is simple to use but lacks certain capabilities.
The Results: Selecting the Right Welder
1. SMAW: Shielded Metal Arc Welding. If you chose mostly "A," you'll want to purchase this stick welder. It is known for accomplishing basic welding applications, is budget-friendly, and is easy to use. A stick welder is portable and simple, which makes it an excellent choice if you plan to do repairs on your property that may not have a clean surface.
2. GMAW: Gas Metal Arc Welding. If you chose mostly "B," you'll want to purchase this MIG welder. MIG welders provide expanded material applications and more focused welding applications at a flexible price. It's fairly easy to use for the hobbyist, consistently giving you high-quality welds that look appealing without requiring advanced technique. Your budget will further lead you to the best MIG welder since there are multiple options for high-performance components.
3. GTAW: Gas Tungsten Arc Welding. If you chose mostly "C," you'll want to purchase this TIG welder. It comes at a higher price for more skilled welders that don't require ease of use and want to accomplish highly focused welding applications on specialized materials.
4. GMAW: Gas Metal Arc Welding. If you chose mostly "D," you'll want to purchase this MIG welder. Overall, this welder makes the most sense as you learn a new skill and decide how you will use your welder. It's versatile, fairly easy to use, and will help you accomplish various projects with multiple ferrous materials.
To learn more about the different types of welding machines and which welder is right for you, contact Zaskoda Repair today. We can help you select a new machine or sell you one of our used or refurbished welders.